Please enjoy the stories of some of our clients.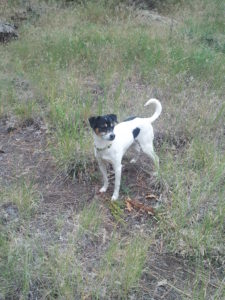 In July of 2015 we adopted a 10-year old Rat Terrier mix dog (George) at a Pets in the Pines event from Rusty's Sanctuary for senior dogs.
Six months later we felt pea sized lumps under his jaw and behind one knee.  We were fearful about what it was since we had lost a beagle to lymphoma a couple years prior.  Despite aggressive chemo therapy by an oncologist in Tucson and CAWC, the beagle only survived about 7 months which is kind of typical.  The next day we rushed  George to the vet to have the lumps biopsied and sent to the pathologist.  Two days later it was confirmed that George had lymphoma.  The doctor at CAWC had heard of a new experimental vaccine for lymphoma.  It was only for B-cell lymphoma and we had to have that tested prior to starting chemotherapy.  George was immediately put on a single-agent doxorubicin chemotherapy regimen.  He had six doses over 15 weeks at CAWC.  He went into remission quickly after the first dose and suffered some mild side effects from the chemo that were managed well.  At the conclusion of the chemo, we decided to try the vaccine on George.  While a bit expensive and with unknown chances of helping (estimated at 20-30%) we just felt it was the right thing to do.  The doctors at CAWC gave George 4 injections of the vaccine 2 weeks apart.  After 3 months he had a booster although we now believe that could have been at 6 months.  As I write this, George has had 3 more boosters at 6 month intervals and has been in remission for 26 months!  This is very rare and we have to believe that the vaccine has helped George immensely.  We are told that although it is still experimental and they don't know how many, or which dogs it will help, it seems to be very effective for those that are lucky enough to respond.  As long as George stays in remission he will get 6 month boosters of the LSA vaccine.  We are grateful for the time we have been given with him and the care he has received at CAWC.   
Continental Animal Wellness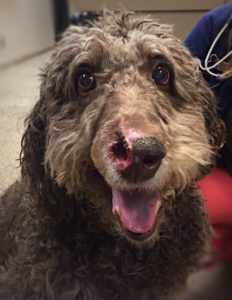 "Mollie"  10 year old Labradoodle
This very energetic, sweet girl came in for her annual exam and vaccines.  We assessed some masses on her chest and ran some blood work in preparation for a dental cleaning with mass removal in the near future.  Three days prior to her scheduled dental, Molly's owner noticed a strange lump that was growing inside of her right nostril so she brought her in to make a plan.  The mass looked extremely suspicious so we decided to biopsy it at the time of dental while she was under anesthesia.  It was identified as Malignant Melanoma, an aggressive type of cancer.  Though melanomas are common in dogs, this location is very rare.  Early detection and intervention is very important.  Due to the extensiveness and location of this mass, Molly was referred to a specialty center in Phoenix for a nasal resection in an attempt to get all of the mass in its entirety.  Molly had a follow up CT scan a few weeks post-op for evaluation of possible metastasis and assessment of her lymph nodes.  Molly's oncologist then started her on the melanoma vaccine in an effort to achieve her best prognosis.  Molly's nose has healed up nicely and we think it gives her character.  From most angles it is actually hard to even notice for two reasons: it hides behind her amazingly gigantic smile AND Molly's tail wagging rump rarely ever allows her to pause from motion.  She sure has the right attitude about all of this. 
Molly was given a series of Melanoma vaccines (every other week for 4 treatments then every 6 months) with the intention to slow down the rate of spread of this highly malignant tumor.  The vaccine is labeled for oral and digital melanoma so it was unknown if it would help slow down this tumor for Mollie.  Mollie fought an amazing battle and her attitude remained incredibly positive through all her treatments.  Unfortunately the tumor moved in to her lungs 9 months after diagnosis.  We will forever miss this amazing dog.
Here is a beautiful tribute to a remarkable dog from her mom:
Mollie May Mandino, the "sinkable" Mollie Brown, aka, Mollie Moose, my doggie soulmate, my constant furry bundle of love, the dog who taught me that being a puppy is a state of mind, not an age...I will forever love you and you'll be in my heart forever. 12/7/07-9/21/18. RIP sweet baby girl. I will miss you sharing my pillow at night, our walks together, going to the Bark Park, sharing my breakfast, lunch and dinner with you. I hate cancer and I hate that it ravaged your body. We had a great morning after a difficult night. You went very peacefully. I am grateful to Dr. Dobbin from Continental Animal Wellness Center for coming to our house so Mollie could be at home when she passed. Thank you for the care and love you gave her and thank you to all the staff who loved her as well. You are a great place for anyone to entrust their animals health with. Thank you again.
Continental Animal Wellness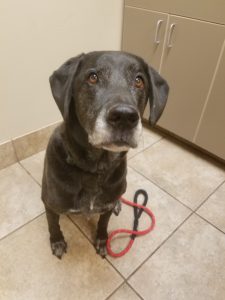 "Jobin" 8 year old Black Laborador
Jobin is your typical energetic, lovable Lab.  He is so typical of the Lab breed that along with his wonderful personality he also has horrible allergies.  For many years his owner has been managing his allergies with multiple different medications, diets and frequent bathing.
Jobin was still itchy despite all the different medications that were tried.  His owner was frustrated with the side effects of steroids and wanted to find something safer for her dog.  She was very dedicated to buying the best food and twice a week giving him a good bath to remove pollens from his haircoat.  She was exhausted.
Cytopiont, the first monoclonal antibody therapy for chronic dermatitis came available a few years ago.  We discussed with Jobin's owner the new technology that was now available to safely help decrease Jobin's itch and we decided to try it.  Cytopoint works by targeting and neutralizing canine IL-31, an important cytokine involved in sending the itch signal to the brain.  Cytopoint is given as an injection under the skin every 4-8 weeks. 
By the 3rd to 4th injection we were amazed to see the results in Jobin.  He no longer had red, infected ears and his skin was looking very healthy.  His hair was regrowing in areas where he didn't have hair previously and best of all he wasn't itchy!  His owner slowly started taking away all his other medications and she now has even cut back on how frequently he needs baths.  Jobin comes in every 8 weeks for his Cytopoint injection and he has never looked or felt better!
Continental Animal Wellness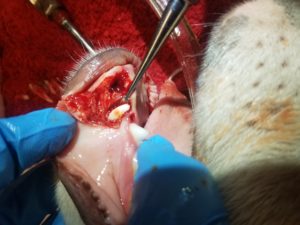 "Rod" 6 month old Mixed Breed
Rod was found with a few other puppies roaming free.  When he was presented for a check up and vaccines, his oral exam was abnormal and no adult canine teeth were found.  We decided to take dental xrays when Rod was anesthetized for his neuter the following week to look for the "missing" canine teeth.  The xrays revealed the canines were still impacted in the jaw bone.
Occasionally, when teeth fail to erupt normally and stay impacted they can form dentigerous cysts.  Dentigerous cyst is a fluid-filled sac that develops in the jaw bone associated with the crown of an unerupted tooth.  Over time these cysts can get so large that the jaw bone thins or even fractures.  In order to prevent these cysts from causing issues they need to be identified early.  We recommend any young animal that has missing teeth to have dental xrays.
Once Rod's xrays revealed the problem we took him to dental surgery right away to remove the impacted canine and let that jaw start the recovery process.  Rod was kept on a soft food diet for several weeks and he made a full recovery.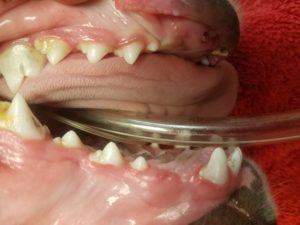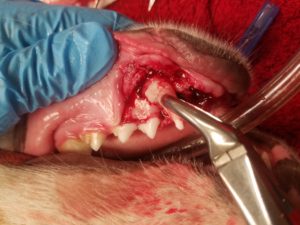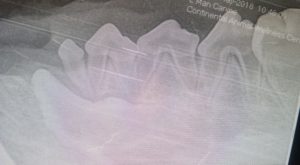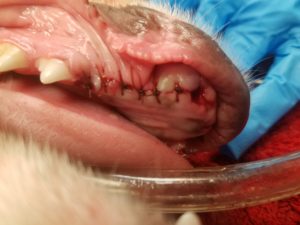 Continental Animal Wellness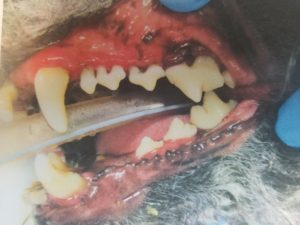 "Charlie" 9 year old Poodle Mix
Charlie was rescued as an adult dog with no known medical history.  The owner noticed over the past year that Charlie had a bad odor to the mouth and was having trouble eating.  When Charlie came in for his dental cleaning it was found that he had very severe dental disease in which bone was being lost from the jaw due to the degree of periodontal disease present.  Xrays were taken to identify which teeth were causing the issues and extractions were performed.  The owner reports within two to three days Charlie had recovered and is now feeling great with a healthy, odor-free smile!
In the pictures you can see when the calculus is removed the teeth look very clean but the disease process and bone loss is still present.  Dental xray is so important to correctly identify diseased, painful teeth.  If the teeth were only cleaned we may think they look good but under the gum line the animal is still in a lot of pain and the jaw bone continues to weaken.  When your pet under goes Non-Anesthetized dental cleanings the disease process under the gum line can not be addressed which continues to cause destruction to your pet's mouth.  Your pet's airways are also not protected during dental cleanings that are done on awake animals which can lead to pneumonia and other negative consequences for your pet.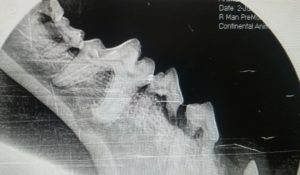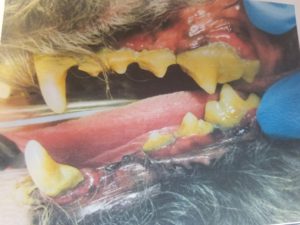 Continental Animal Wellness